Of all the cities in the world, it's hard to compare any to the beauty that is Paris. No matter how many times I visit, its romance never tires, and I constantly daydream about the next time I'll visit. Anna Tsoulogiannis of Annawithlove never tires of Paris either, and although she has already been there, I think it's safe to say she cannot wait to get back. Anna has a photo diary blog where she posts all of her gorgeous photos of Paris, and other cities, so be sure to check them out! ::: Luster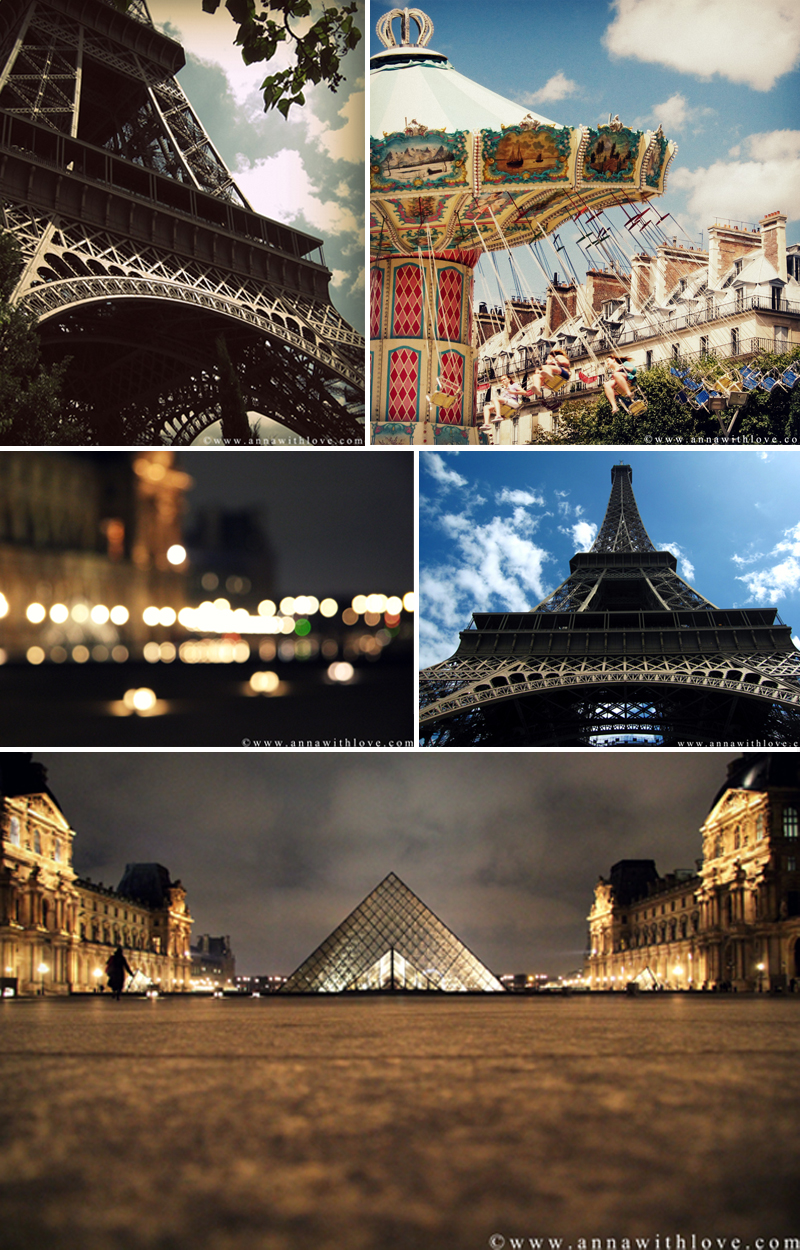 ::: From Anna ::: I dreamt about going to Paris my entire life (I mean who doesn't right?) so when my best friend and I booked our euro leg trip two years ago it was first on the list.  As soon as we arrived, it was love at first sight/smell/sound/touch/taste.  Everywhere I would point my camera be it a street, the sky, buildings it made for a beautiful photograph.  They are right when they call Paris a photographer's heaven…because it sure was mine.  Three days (and 3GB) later I was on the train en route to Barcelona and dreaming of Paris.  As I sat on the train writing in my journal I promised myself I would be back…and soon.  For the next month all my energy and focus was still on Paris…Paris…Paris.  Very soon after I got back to Toronto I was promoted at work and part of my new job was to attend film festivals around the world…to my delight two of the main festivals to attend were…surprise surprise in France!  And here began my love affair with Paris.  I was very lucky and fortunate to be given that incredible opportunity to travel for work.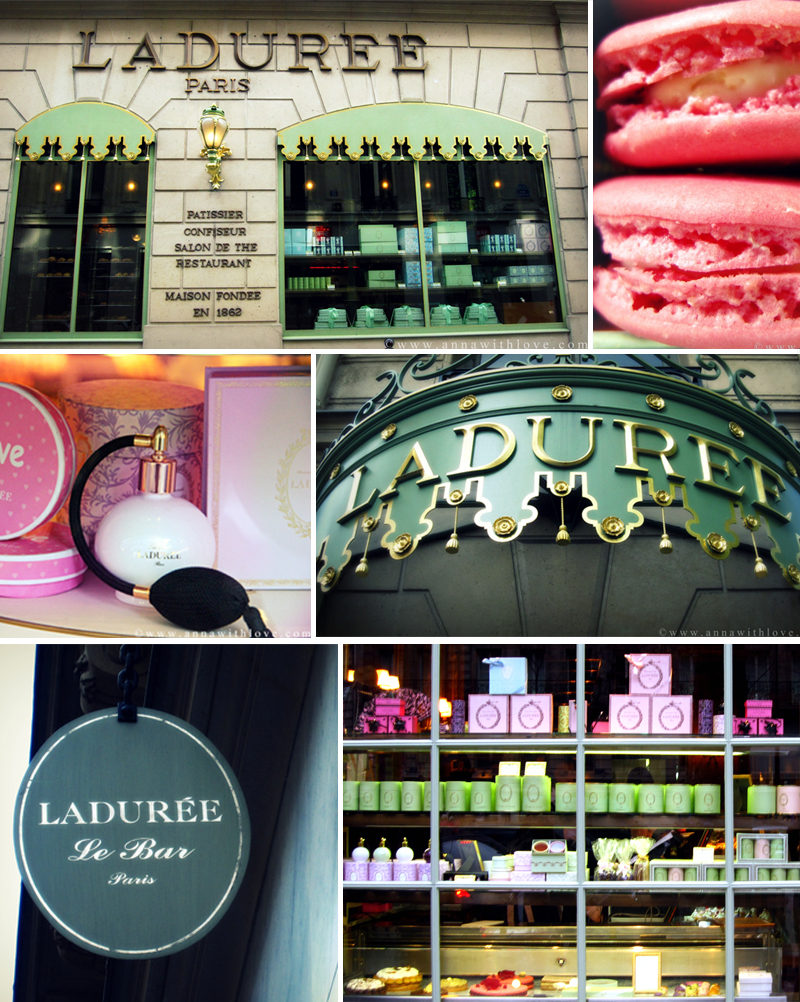 I could write for pages and pages on all the things I love to do in Paris, but for your sakes I will try to keep it brief and focus on my favorites.  My third time in Paris I stayed at a hotel near the Louvre, one night after I enjoyed a lovely dinner (avec delicious red wine) I strolled over and sat in the Louvre grounds.  It was so quiet, comforting, peaceful and just the right amount of eerie.  The big crowds of tourists had dispersed and just a few photographers were left setting up their tripods.  There I sat for two hours, alone in the city I love, with nothing but my thoughts and camera surrounded by history.  It was a perfect evening.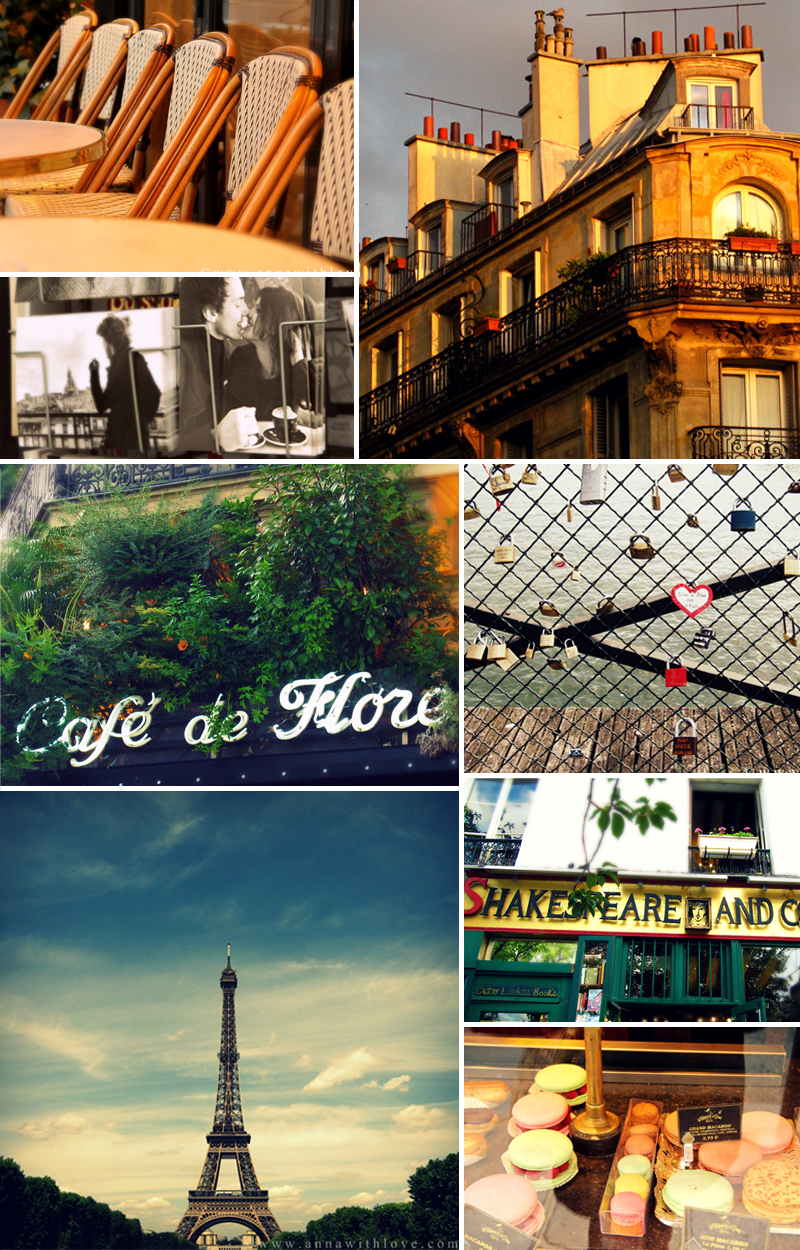 Aside from the basic tourist spots I visit to take photos of (Eiffel Tower/Arc de Triomphe/Notre Dame) other things I like to do in Paris is…eat…a lot.  Unless you are staying at the Ritz skip the hotel breakfast and head to a Boulangerie for fresh pastries and croissants followed by a morning stroll through the Jardin des Tuileries. Be sure to set time aside to sit and people watch at a cafe (Cafe de Flore a goody) and grab some Macarons from Laduree or Pierre Hermes! My favorite is the pistachio flavor…MMmmm.  Of course a walk along the Seine is a must…watch out for the locks of love along the bridges (specifically the Pont Des Arts).  I also adore visiting the Shakespeare and Co. bookstore in the Latin Quarter; even though I'm not much of a reader it is so visually interesting.  The main thing while in Paris…relax and enjoy!  Allow yourself at least a day to not have a plan and just wander around getting lost in the city of love.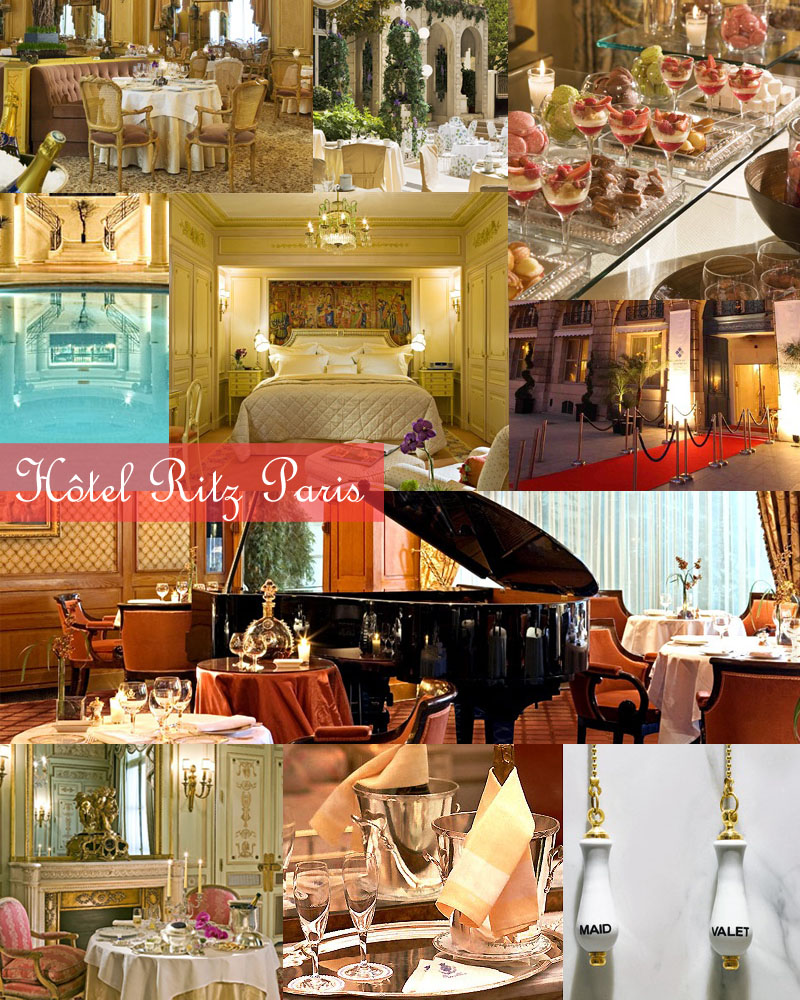 Since this post is wanderlust I decided to choose my dream hotel in Paris over my 3 star-but-i-pretend-its-5-star hotel choices. The Ritz Paris! Talk about elegance & glamour…I don't know that I would want to leave the hotel!   (For reference I like to stay either close to the Champs-Elysees, near the Louvre or in the Latin Quarter…all great locations!)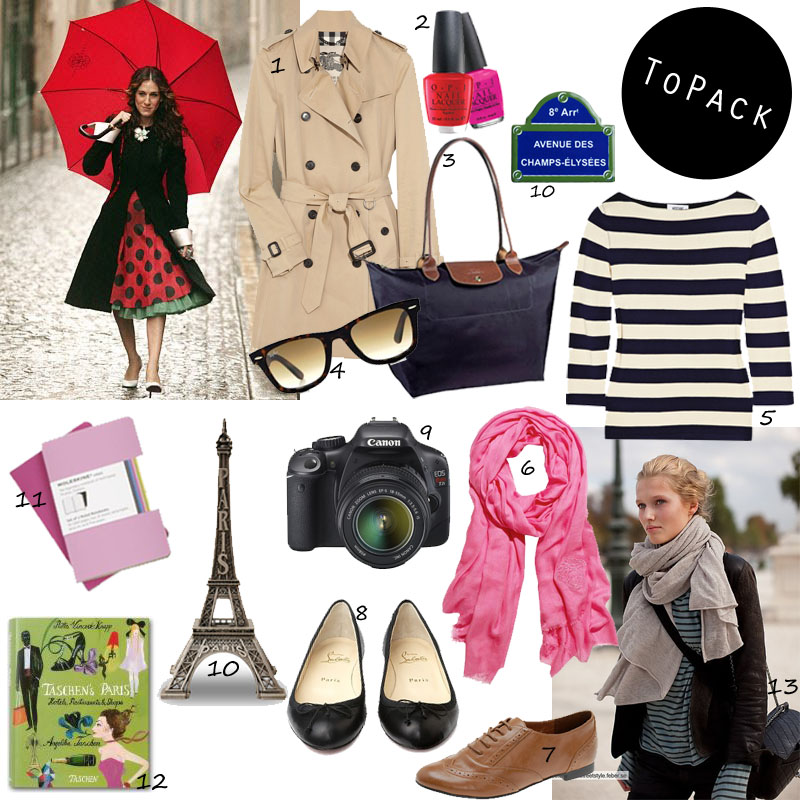 Anna's Packing List:
1. A chic Burberry trench coat
2. I make sure my nails are painted bright fun colors
3. I love my Longchamp bag it fits everything I need inside and looks fabulous too!  I usually pick up another bag every time I'm in the city because they are so much cheaper than in Canada
4. Sunglasses (of course) — Ray Ban Wayfarer Tortoise Brown
5. Perhaps a cliche but I don't care, I always pack a navy and white striped shirt — Moschino Striped knitted sweater
6. Scarves, scarves and more scarves! I pack 2-3…okay 5.  If you want to look "Parisian chic" you must master the art of the scarf
7 & 8 . A comfortable pair of flats!! Even though I'd love to finish off my outfit with a pair of killer heels, realistically I'd last about two hours.  I walk everywhere in Paris to make sure I find interesting new photos…plus why take the subway when you can walk through such an amazing city?
9. The most important thing I pack after my passport…my Camera!  Currently I use the Canon Rebel t2i
10. I love bringing back little knick knacks for my family, friends and of course for myself.  I have about three mini Eiffel towers all over my room.  I also love the street sign magnets.  I bought the Champs-Elysees magnet for my mama. I absolutely adore the black and white postcards and vintage Moulin Rouge posters which are sold everywhere.
11.  A notebook.  I've been to Paris twice on my own so I always carried one around to jot down my thoughts, ideas, inspirations as I sat people watching alone in a cafe
12.  An amazing guide to Paris.  This book won't be something you will pack with you as it is both heavy and huge! But a great read  — Taschen's Paris by Angelika Taschen
13. Photo
Hope you enjoyed Paris through my eyes! A big thanks to Jennifer for letting me be a part of her Wanderlust series, it's been so much fun! 'Til next time, Bisous! xo
…………………………………………………………………………………………………………………………………………………………………………………………………
Thank you, Anna!
For more Wanderlust destinations, be sure to check out Vietnam | Belize |  Ireland |  St. Petersburg |  Dubrovnik, Croatia |  Marfa, Texas |  Vancouver Island |  The Amalfi Coast |  and Reykjavik